Happy Valentine's Day, Darlings!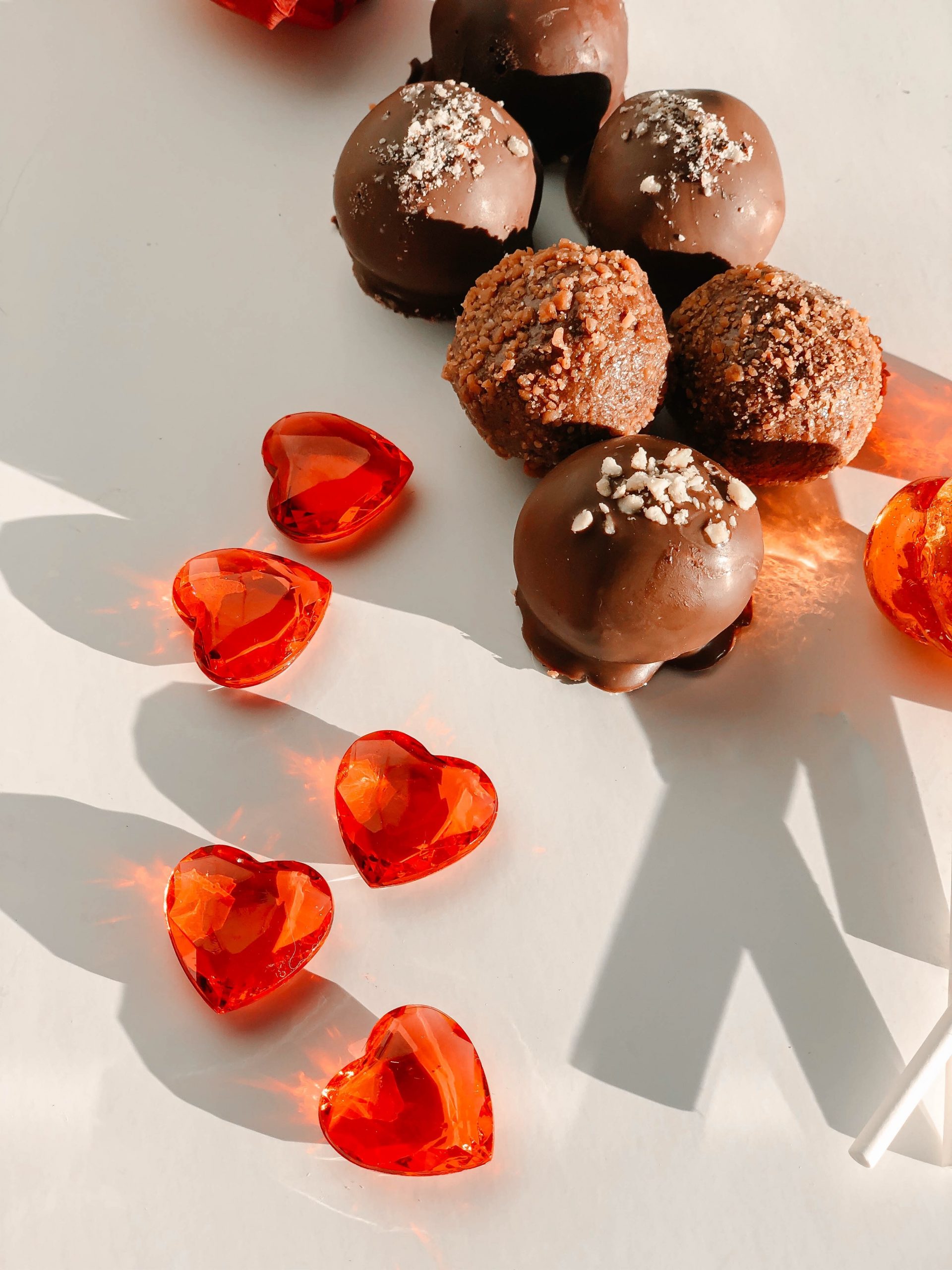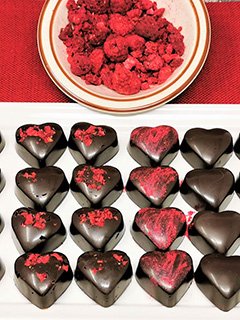 To regain a bit of sanity and balance I find it useful to think every day of something to be grateful for. Those we love would come at the top of this list. For me, gratitude and love fused into food. I've put together four special recipes for you below. Plus, you'll see three short musings on love at Valentine's Day that keep me going.
Without any order we can name health, a place to live, work, a purpose – the list goes on. Then the little thing: nature, music, a good book or movie and ZOOM! The list goes on.
What to watch, read and do on Valentine's Day (for both genders)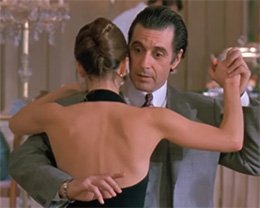 Scent of a Woman
I talked with my hubby about a Valentine movie selection. We both agreed that Scent of a Woman is sexy and sensual, plus it has a meaningful ending. Al Pacino earned an Oscar for his role in this film. Here is a taste depicting the tango scene.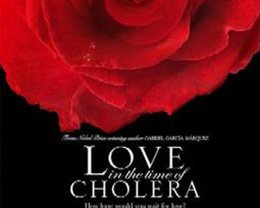 Love in the Time of Cholera
Columbian novelist Gabriel García Márquez, who won the Nobel Prize for Literature in 1982, wrote Love in the Time of Cholera, published in 1985. The 2007 movie is available on Amazon Prime. Having visited Spain and, later, living two years in Mexico, I am very fond of Spanish-speakers' culture. The book was one of President Clinton's favorite. And he was my favorite president! The movie's happy ending in an earlier pandemic gives us hope for the present. Modern commentators are enthusiastic: "Gabriel García Márquez depicts love as an infectious disease. Must we quarantine from it?" – Of course, Márquez never had Zoom. 😊 We get around our quarantines. We are resilient and overcome anything!
I  thought some of you would enjoy a lighter video from times when Valentine's Day was about sensual chocolates, flirt -- not COVID slippers and pajamas 24x7. TV New Zealand did a video about me called "Love Doctor's Sweet Valentine from my past business, Mamor Chocolates New Zealand. (or you can see me in my Szalon in this video)
Back in NZ, I had just left my fancy corporate job, and established my own dream company: making chocolates. TV made me the most famous chocolatiere in New Zealand!  How? You'll see at the end of the video I am sitting in a bathtub bubbles with chocolate and champagne, and teaching my lady viewers how to get their man's attention…I know, I know, it is not on everyone's mind just now, but perhaps can get you laugh. Or smile. Or shake your head. Whatever, it is a diversion from COVID monotony for Valentine's Day, I hope.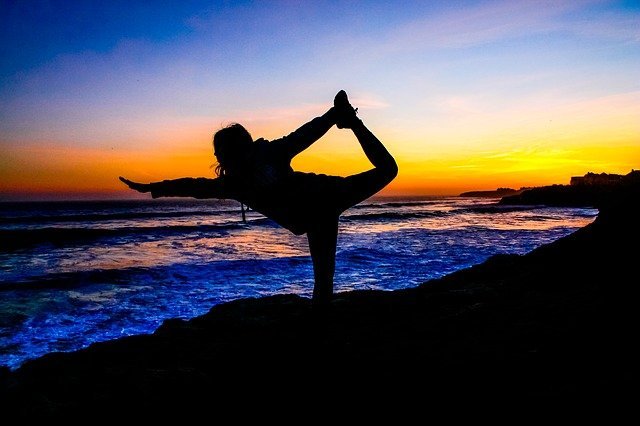 Yoga at Sunset
Exercise before dinner!
EXERCISE! Keep the doctor away and banish the guilt so you can eat a wide variety of food. These days, I do 1-2 hours from this video. The sessions offer an intermediate-level mix of yoga, pilates and core exercises. My husband is partial to Les Mills On Demand.
Now, I'm sure you are all waiting for Hanna's latest recipes for February, designed especially for your Valentine's Day.
What to Eat on Valentine's Day from Diet Desires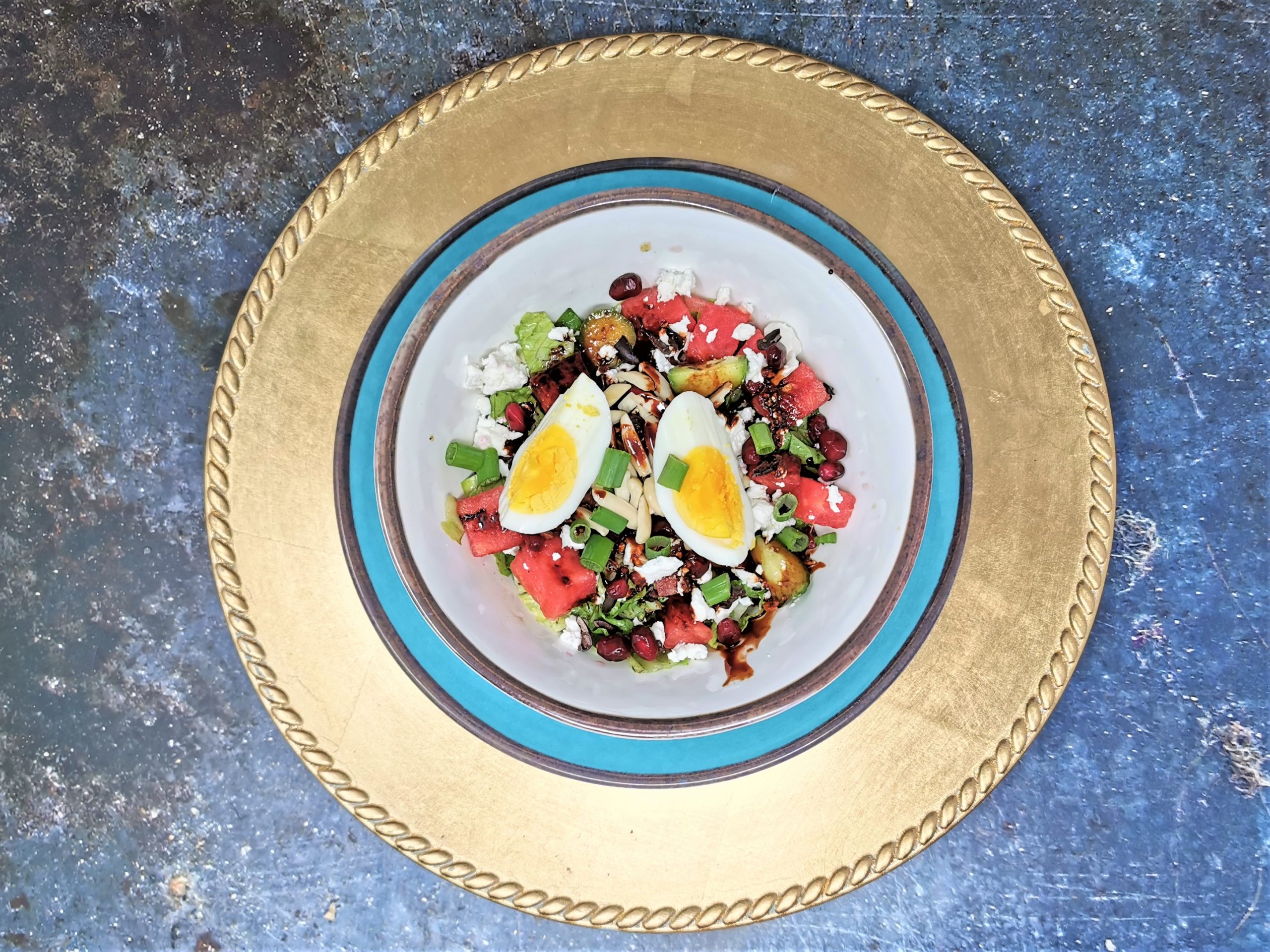 Aphrodisiac Salad with pomegranate, garlic, watermelon, chilis, cacao nibs, almonds that improve romance, libido, and energy level. Make your loved one fall for this romantic salad by choosing natural aphrodisiacs to improve good feelings or more…The recipe includes rockets, pomegranate, garlic, watermelon, chilis, cacao nibs, almonds. All ingredients improve the libido and energy level!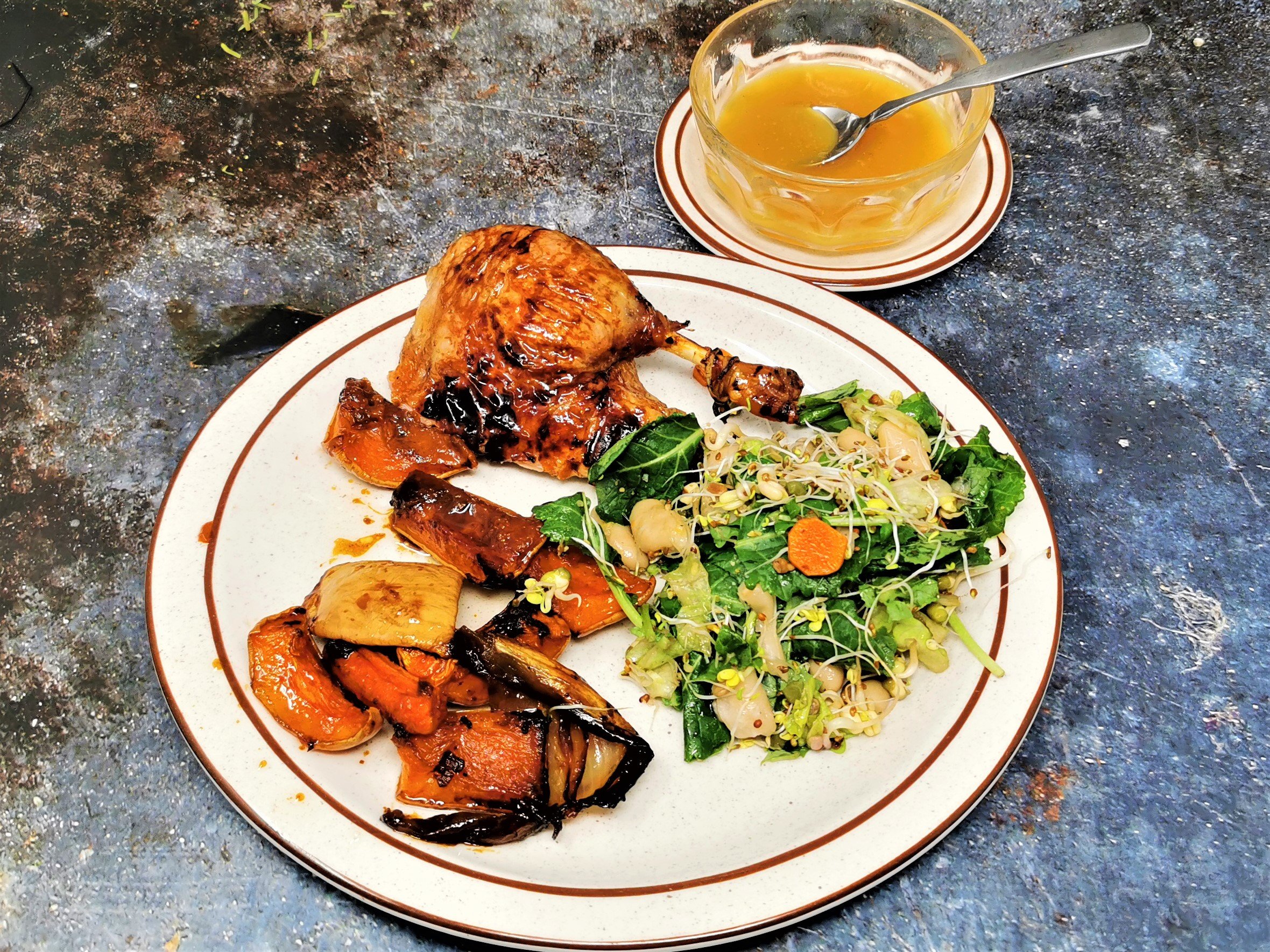 A stunning recipe for Balsamic-Glazed Roast Duck! The secret is the shiny, deep red glaze and the timing. Perfect to win the heart of your guest(s)…Serve with roasted veggies baked in the same pan, and orange sauce. It's easier than you think. This Roast Duck is juicy and tender. Its skin is crispy when brushed with the balsamic glaze.  It's no more difficult than roast chicken, perfect for a special occasion or as a holiday dish.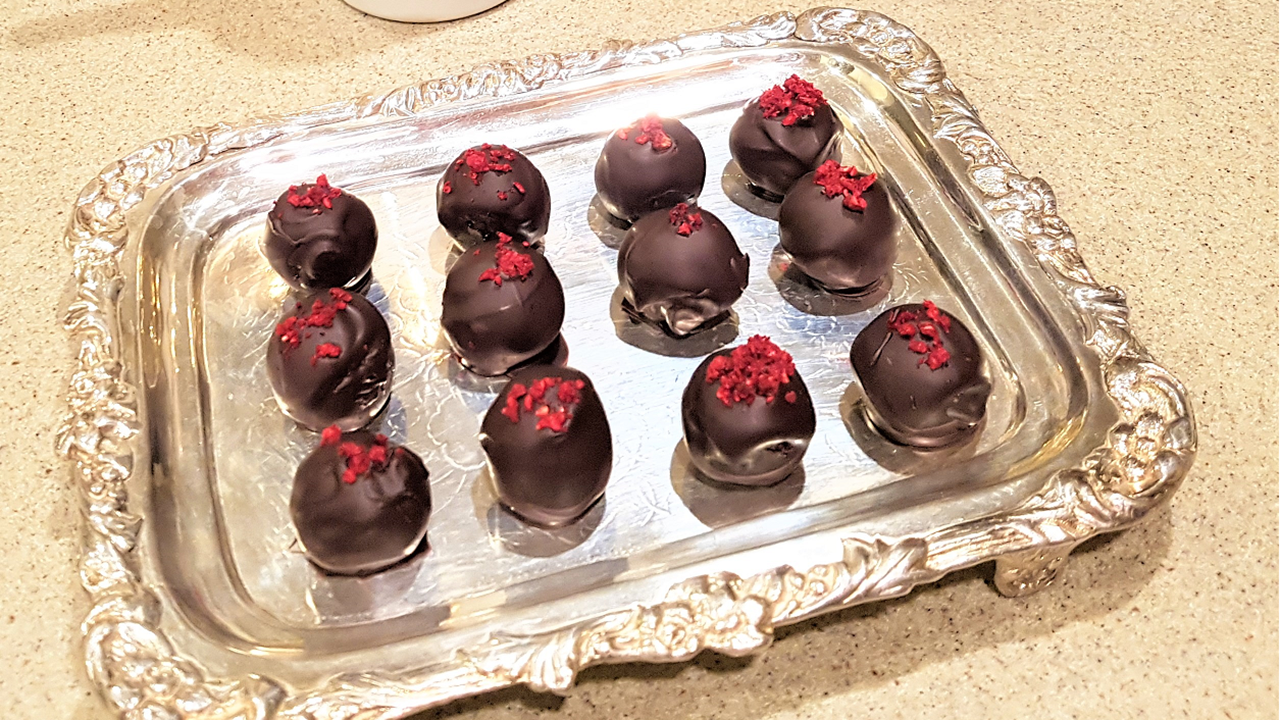 Fresh or frozen fruit and cream mixed with dark chocolate creates very aromatic raspberry truffles in this recipe. These little jewels are so easy to roll and dip into chocolate. Top them with freeze-dried raspberries to steal the show. And by swapping cream with coconut cream you can end up with a vegan version!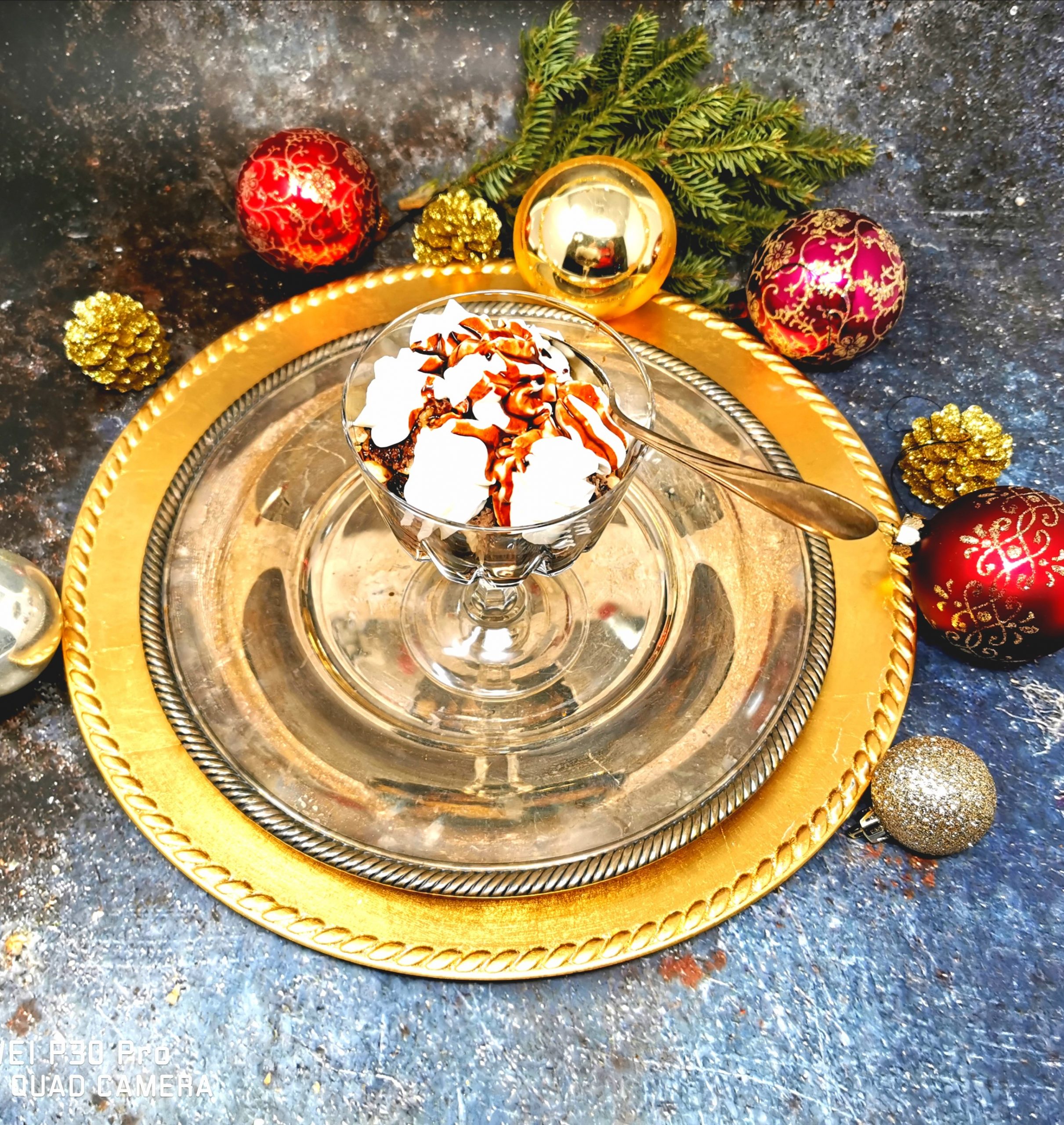 Somlói Galuska (Hungarian Sponge Cake) has rum-soaked layers of custard, apricot jam, walnuts, raisins and chocolate sauce. Iconic hit! Somló cake could be called the Hungarian Tiramisu. Except richer and more heavenly complex flavors. A bit of work, but easy to make ahead: rum-soaked layers of soft sponge cake, custard cream, apricot jam, ground walnut, raisins topped with whipped cream and chocolate sauce. The iconic Hungarian dessert was first presented and admired at the World's Fair in 1958 in Brussels.
But wait! Next month . . .
The Somlói Galuska (above) is the real deal. But at the request of a friend, I came up with a "Lazy Somló" version of the complex confection. Rum-soaked lady fingers, instant custard, apricot jam, ground walnuts and raisins, still topped with whipped cream and some cocoa powder. It nearly mimics a real Somló, but mainly store bought products to assemble into a magical flavor bomb! No one need to know how you made it.
Hope you will try some of the menu. If so, please please send comments and questions through the recipe comments! It helps Google recognizing my work… I reply to everyone. If you like the blog, pass it on to anyone – they can subscribe.
Hanna Frederick
© 2020 Diet Desires
Dr Hanna Frederick
Email: drhanna@dietdesires.com
Website: www.dietdesires.com
Subscribe
To unsubscribe, see below.